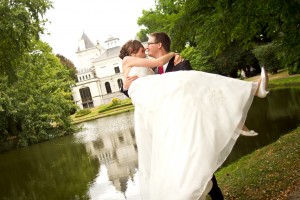 We are Rein and Caressa, respectively informatics (system en network administrator) and teacher MO/Engels.
Our passions or hobby's have become our profession.
We got married on August the 25th 2012 and currently live/study in Denmark.
Rein studied mostly leadership classes and Caressa mostly worship classes at IABC or KIH.
After our studies we were asked to help out as volunteer as we now do in our own expertise areas.
Caressa finished her education as a Music/English teacher at the Artevelde HS and Rein worked at Cheops as a consultant.
Between 2012 en 2014 we both were active in the Christengemeente van Londerzeel (link). Rein took care of the Multimedia and was responsible for the sound/media in the church. He occasionally played music (clarinet) in the music team. Caressa was part of the music team and put the theory she got at school into the team.
We both were youth leaders and took care over a group of 15 young people and made a program and taught on several topics. This was all done in coöperation with two pastors of the church, Henk and Carin Troost.
We enjoy the fullness of life and take every possibility to grow both in our professional as our spiritual life. That is also the main reason for us being in Denmark.